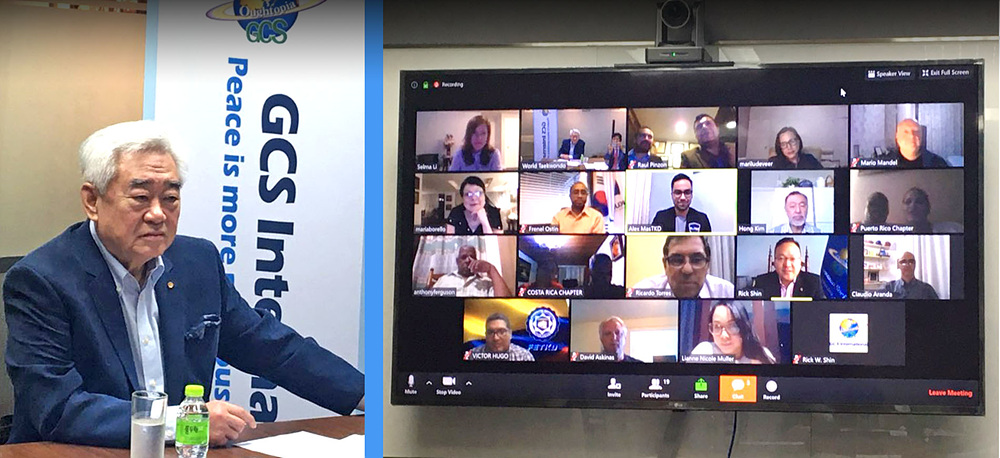 (June 4, 2020) – Ten refugee children at the Azraq Syrian refugee camp in Jordan and dozens of WT Cares Program taekwondo students in Nepal, Cambodia and Sri Lanka will participate in the inaugural COVID-19 GCS Virtual International Taekwondo Championships.
The 1st online taekwondo championships, which will be held on June 4-7 Pacific time, are organized by the GCS International Portland, USA Chapter and the U.S. World Class Taekwondo Association. The event is supported by GCS International, MasTKD and other taekwondo bodies.
The 4-day virtual taekwondo event is expected to draw over 300 athletes from 20 countries. Among the athletes are 10 refugee children at the WT-THF Humanitarian Taekwondo Center at the Azraq refugee camp in Amman, Jordan, and about 30 taekwondo students from Nepal, Cambodia and Sri Lanka, who are and were taekwondo students under the WT-ADF Taekwondo Cares Program.
The 20 participating countries are Aruba, Cambodia, Canada, Cayman Island, Chile, Colombia, Ecuador, Guatemala, Haiti, India, Jordan (Humanitarian Taekwondo Center), Korea (GCS Global Taekwondo Peace Corps members), Malaysia, Nepal, Nicaragua, Panama, Russia, Sri Lanka, Turkey and the United States.
As the host of the COVID-19 GCS Virtual International Taekwondo Championships, the GCS Portland, USA Chapter is offering a sponsorship of a maximum of 10 less privileged athletes to each of the 44 GCS chapters, as well as the Humanitarian Taekwondo Center, run by the Taekwondo Humanitarian Foundation and World Taekwondo, and countries under the WT-ADF Cares Program.
"A portion of the proceeds from this virtual tournament will be allocated to GCS International to provide funding resources for victims who are suffering as a result of the current COVID-19 pandemic," said Dr. Selma Li, president of the GCS Portland, USA Chapter.
Seven WT international referees are volunteering this event and all the competitions will be live broadcast on YouTube through MasTKD and competition results will be live updated on MasTKD.com.
The virtual championships will feature individual poomsae, individual freestyle poomsae, pairs poomsae, team poomsae, and weapon form. Among divisions, which catching our eyes are the Para P-20 – senior female, cadet, junior categories.
"As president of both World Taekwondo and GCS International, I appreciate Dr. Selma for organizing this 1st COVID-19 Virtual Taekwondo Championships. In these COVID-19 pandemic times, most countries are under lockdown situation and taekwondo practitioners are under home training," said Dr. Chungwon Choue, president of World Taekwondo and GCS International.
"My special appreciation goes to the refugee children at the Jordan Humanitarian Taekwondo Center and taekwondo students of the WT Cares Program in Nepal, Sri Lanka and Cambodia, who are participating in this virtual championship," Dr. Choue said. "I wish this event a great success and want to see more virtual taekwondo events, which will give hope and dreams to children in need of global support."
Dr. Choue said, "In these difficult COVID-19 times, we all have to further promote the three GCS spirits of goodwill, cooperation and service-dedication. Taekwondo can be an effective tool to help promote world peace. Peace is More Precious than Triumph."
[ad_2]

Source link