[ad_1]

While winning an Olympic medal is a personal goal for thousands of athletes, for 24 nations it is a dream that has only ever come true once. Tokyo2020.org looks at the glorious moment and the impact it had on the lives of the athletes who achieved it.
The background
Sailor Pavlos Kontides has the honour of being the only athlete to have achieved an Olympic medal for Cyprus. He became Cyprus' first and only Olympic medallist when he took silver in the Men's Laser class at the Olympic Games London 2012. Back then, his victory was significant for the small island nation as he brought hope to Cyprus during a time of crisis.
Kontides was born in Limassol, a city that lies on the southern coast, in 1990. He started sailing when he was just nine years old and by 14, he had started training seriously, turning the sport from a hobby into a lifestyle.
"He had the whole package, it's not only the talent, but he also is a true gem, a hard worker with military discipline, and he is very humble," Yiannis Papazoglou, Kontides's first coach at the Limassol Nautical Club told Reuters.
In 2007, his successful career began: firstly by qualifying for the Olympic Games Beijing 2008 and winning gold at the ISAF Youth World's Championship. Again, the following year Kontides won the ISAF Youth World's Championship, making history as the only athlete to win gold twice in Laser class. A month later, at the age of 18, he took part in the Olympics and was the youngest athlete in Laser class, finishing in 13th place.
His winning streak continued in 2009 with two silver medals at World Cup events, one of which was at the venue where London 2012 would take place, and a bronze at the European Men's Championship. At the end of 2010, Pavlos paused his undergraduate studies in Ship Science at the University of Southampton to devote himself fully in his preparation for his biggest goal, London 2012.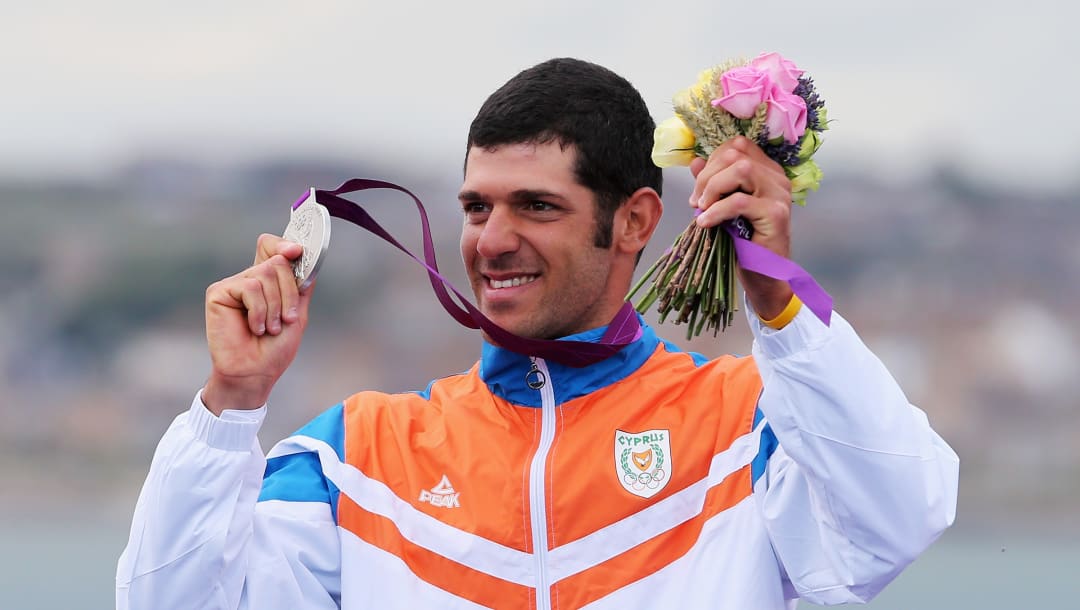 Pavlos Kontides of Cyprus poses with his silver medal from the Men's Laser Sailing at the Olympic Games London 2012 (Photo by Clive Mason/Getty Images)
2012 Getty Images
History in the making
At the Olympic Games, Kontides saw the culmination of all his efforts – he won the silver medal in sailing in Laser class. The sailor wrote his name in golden letters in Cyprus history, by giving his country its first-ever and long-desired Olympic medal.
The 22-year-old entered the medal race with a chance of winning gold, but Australia's five-time world champion Tom Slingsby, who had led the regatta from start to finish, managed to stay ahead of Kontides and secure the Olympic title.
"It is really amazing," Kontides said after the race.
"For me and my country, it is a historic day. I suspect my name will be written in golden letters in Cyprus. I still don't realise what I have done for myself and when I return to my country and people are cheering for me I will start to realise the level of achievement."
How Cyprus' Olympic medal brought hope to a nation in crisis
07:33
Life-changing impact
Kontide's silver medal salvaged national pride and brought hope to Cyprus in a time of economic upheaval. The country sought emergency financial aid from its European Union partners a month before to buffer a banking sector hammered by exposure to Greece, becoming the fifth eurozone country to need a bailout.
"In such times, people need an idol, something to look forward to. We owe Pavlos a great deal. He really does inspire others," Daphne Karayianni-Diamanti, a member of the Limassol Nautical Club, told Reuters.
Newspapers ditched the normal doom and gloom for photos of a beaming Kontides brandishing his silver medal on their front pages.
Over the years, Kontides has continued to be a source of pride for Cyprus. He competed at Rio 2016 where he finished 7th and was the flag bearer during the Opening Ceremony.
However, the Olympic dream is still not over for the athlete.
If everything goes well, he will be competing in Tokyo 2020 next year, which will be his fourth Olympics. Last year, he tested the Olympic waters at Enoshima and won gold. So, things may be looking good for the Cypriot but first he still has to qualify for Tokyo.
In his country, Kontides is not only a top athlete, but he has also been socially active. When he has time away from sailing, he trains young sailors, speaks at primary schools about the importance of sports and takes part in charity events.
"One of my dreams is to expand the sport in Cyprus. Greece has a lot of marinas and the sailing culture is strong there. I would like it to be the same in my country," he explained in an interview.
But even after Tokyo, Kontides doesn't think his athletic career is over. He is still hungry for more.
"Age-wise, I can still compete in Paris, but let's see after Tokyo first," he said.
The future is still full of adventures for the Cypriot sailing hero.
[ad_2]

Source link